Let's put it straight - Welders require heavy-duty footwear for the safety purposes at the workplace. It does not matter if you are just a hobbyist, person who welds occasionally at work or a full-time welder, safety footwear needs to be worn at all times as it helps to protect your feet from various hazards.
There are many kinds of welding safety footwear available that make welding a safer job and they is not as expensive as you might think. A solid pair of welding boots cost around $130 USD - https://www.weldingsuperstore.com.au/safety-and-workwear/welding-boots/ This is really not that much.
Importance of

safety

footwear
welding boots
Foot injuries can seriously affect your job and other life aspects. So safety footwear ensure your protection at the workplace in many ways.
Welding boots protect

from falling objec

ts
safety welding boots
Welding includes transferring heavy metals from one place to another. So the falling object is the common hazard at this very dynamic workplace. Safety footwear like steel toe boots protect your feet from common injuries when a heavy piece of metal falls on your foot. This can be very painful and dangerous.
Welding boots p

rotect from punctures
welding boots
Workers may step onto the sharp edge of a metal or steel or fall onto a heavy object with sharp edges, so the soft sole shoes do not provide enough protection.
Construction sites have condensed spaces, so there may be many sharp objects in your path. Same with metal workshops – nails, pieces of cut metal and other sharp objects can often be found on the floor.
Footwear can protect from

electrical hazards
nonconductive footwear
Electrical hazards are the most common at welding workplace. Workers face electrical shocks like electrical sparks when they are welding metals or steels. So the normal footwear like leather or rubber shoes can get warm and increase the chances of other risk factors.
Wear nonconductive footwear or anti-static boots that are best for working in such places. Safety footwears help to reduce the risk factors and safe your feet from electric sparks.
Prevent slips, trips & falls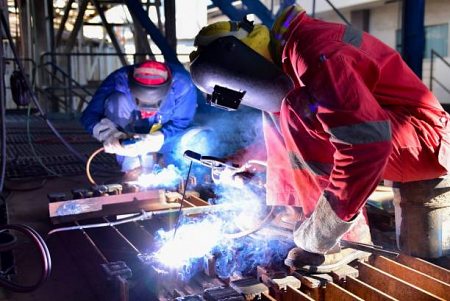 wedling boots
There are many slips, trips and falls at welding workplaces due to the density of machinery and workers at one place—many construction sites or industries introduce non-slippery for tapes to deal with this situation or mishaps. Now many safety wears help to protect from slips and trips at the workplace.
Shoes having appropriate traction also help you to work freely at slippery floors. It also protects you from falling on the stairs or ladders. These are the common risks when workers won't wear safety shoes and face the consequences in the end.
Wear footwear that fits best in your feet and make you feel comfortable at the workplace. It also helps you to keep your balance and prevent you from slips and trips at the workplace.
Prevent burns
safety footwear
Welding has the fire sparks that fall at a range of areas. Your feet are the nearer thing that can get damaged from fire, and you may instantly get the burn marks. Safety footwear can withstand the fire sparks or molten metal splashes. So it helps to protect your skin from burning.
Sometimes the small burning injury may turn into a more significant wound. So it would be best if you take proper safety measures for your feet while welding.